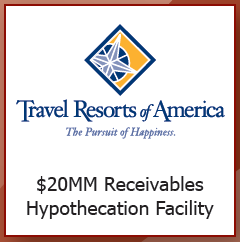 Liberty Bank Commits $20MM to Travel Resorts of America
Charlottesville, VA & Middletown, CT – February 2019: Wellington Financial, the exclusive Resort Finance lending correspondent for Liberty Bank, announced a recent $20MM Receivables Hypothecation Loan from the Bank to Travel Resorts of America. The loan is designed to support forward sales of memberships at their premier RV resorts.
"The timing to arrange receivables financing for our members through Liberty Bank couldn't be better," says Steven Baldelli, president of Travel Resorts of America. "We were just recognized by Coast to Coast Resorts, the leading Recreational Vehicle (RV) resort membership organization and a division of Good Sam Enterprises, as national and regional top sales performers in the industry for the second year in a row. Not only did Travel Resorts of America finish as the No. 1 National Resort Sales team, but also as No. 1 in National Multi-Park Resort Sales."
"Liberty Bank has been watching the exponential growth in the use of RVs," says Liberty's Resort Finance Division VP and senior Resort Finance officer Jay Gordon. "We are excited to continue this partnership, to provide more lending opportunities and continued growth for Travel Resorts of America. It's evident that they have been able to tap into the community of RVers seeking a higher-end camping vacation experience and the benefits of membership."
Wellington Financial's Executive Vice President Shawn Brydge says, "TRA's management team are seasoned veterans with a passion to provide a quality product and wonderful customer experience. We're very excited to help support their grow for years to come."

About Travel Resorts of America
Travel Resorts of America (TRA) is an outdoor resort development, marketing and management company providing members access to a private network of more than 500 campground resorts across the United States. Established in 1986, TRA owns and operates six resorts, including Sycamore Lodge in North Carolina, Gettysburg Battlefield Resort in Pennsylvania, the Twin Lakes Resort in Florida, and Wally World Riverside Resort, Rocky Fork Ranch, and Pymatuning Adventure Resort in Ohio. TRA is a two-time recipient of Good Sam awards for its membership sales and marketing programs that connect the RV camping community to a premier network of RV campgrounds and resorts. For more information, please visit http://www.travelresorts.com.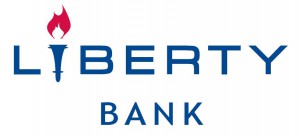 About Liberty Bank
Liberty Bank (Liberty-Bank.com) has been actively lending to the timeshare industry throughout the U.S. for over 35 consecutive years. The bank's commitment to superior service has resulted in lending relationships with some of the industry's largest and most successful developers. Established in 1825, Liberty Bank is Connecticut's oldest bank, with more than $5.1 billion in assets and 55 banking offices throughout the central, eastern, western and shoreline areas of the state. As a full-service financial institution, Liberty offers consumer and commercial banking, home mortgages, insurance, and investment services. Named in 2019 as one of the World's Best Banks, ranking 4th in the United States by Forbes and a 'Top Workplace' by the Hartford Courant for seven consecutive years, Liberty maintains a longstanding commitment to superior personal service and unparalleled community involvement.

About Wellington Financial
Wellington Financial (Wellington-Financial.com) is the exclusive Resort Finance lending correspondent for Liberty Bank and specializes in lending to developers of timeshare resorts, fractional resorts and retail land. Founded in 1981, the finance and service company offers a full range of products, including receivables hypothecation, purchase and conduit facilities; pre-sale and working capital lines of credit; acquisition, construction and renovation financing, as well as mezzanine and equity debt financing. President Ron Goldberg serves on the Board of Directors for the American Resort Development Association (ARDA).
Media Contact for Wellington Financial:
Sharon Scott Wilson, RRP
SharonINK/THE TRADES; 310-923-1269