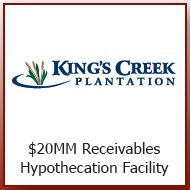 Liberty Bank Renews $20 Million Loan to King's Creek Plantation
Charlottesville, VA & Middletown, CT – April 2017: Wellington Financial, the exclusive Resort Finance lending correspondent for Liberty Bank, announced the bank recently renewed its $20 Million loan commitment for King's Creek Plantation resort.
"Liberty and Wellington have been excellent business partners since 2013," said King's Creek Plantation Executive VP/COO/CFO Joe Cantrell. "We'll be using the funds to help continue our growth."
Liberty Bank Vice President Jason "Jay" Gordon of the bank's Resort Finance Division said, "We are very pleased to continue our relationship with King's Creek. The management team is extremely talented and the entire staff is excellent to work with."
Ron Goldberg, president of Wellington Financial, said, "This property is ideally located down the street from Williamsburg's theme parks and just a few minutes from Colonial Williamsburg.  With large, luxurious accommodations and plenty of family-friendly amenities, it's a terrific Interval International Premier Resort."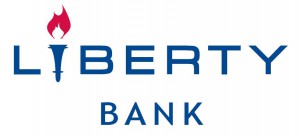 About Liberty Bank
Liberty Bank has been actively lending to the timeshare industry throughout the U.S. for over 35 consecutive years. The bank's commitment to superior service has resulted in lending relationships with some of the industry's largest and most successful developers.  Established in 1825, Liberty Bank is Connecticut's oldest bank, with almost $4.5 billion in assets and 55 banking offices throughout the central, eastern, and shoreline areas of the state. As a full-service financial institution, Liberty offers consumer and commercial banking, home mortgages, insurance, and investment services. Named as a "Top Workplace" by the Hartford Courant for five consecutive years, Liberty maintains a longstanding commitment to superior personal service and unparalleled community involvement.

About Wellington Financial
Wellington Financial (Wellington-Financial.com) is the exclusive Resort Finance lending correspondent for Liberty Bank and specializes in lending to developers of timeshare resorts, fractional resorts and retail land. Founded in 1981, the finance and service company offers a full range of products, including receivables hypothecation, purchase and conduit facilities; pre-sale and working capital lines of credit; acquisition, construction and renovation financing, as well as mezzanine and equity debt financing. President Ron Goldberg serves on the Board of Directors for the American Resort Development Association (ARDA).
About King's Creek Plantation
Situated in Williamsburg, Virginia, King's Creek Plantation is an Interval International Premier Resort located within easy access of the Colonial Parkway, which links Williamsburg to historic Jamestown and Yorktown.  The resort features one, two, three and four bedroom homes amidst a complex offering multiple swimming pools, a year-round indoor aquatic center, jetted pools, saunas, large workout room, tennis courts, a basketball court, picnic areas, playgrounds, an 18-hole miniature golf course, jogging trail and more in a gated community. For more information, call 866-228-6796 or visit http://www.kingscreekplantation.com.
Media Contact for Wellington Financial:
Sharon Scott, RRP
SharonINK PR & Marketing
310-923-1269