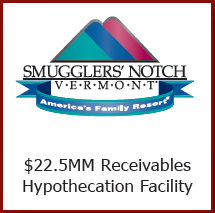 Liberty Bank Renews $22.5 Million Loan to Smugglers' Notch
Charlottesville, VA & Middletown, CT – October 2017 / Wellington Financial, the exclusive Resort Finance lending correspondent for Liberty Bank, announced the bank recently renewed their lending commitment to the Vermont-based timeshare resort, Smugglers' Notch. The $22.5 million loan is for receivables financing and includes a two-year extension.
"Liberty Bank and Smugglers' Notch began a lending relationship in 2009, in the midst of the adverse economic environment prevalent at the time," says Liberty Bank Vice President David Brede. "Since then, Smugglers' has grown and prospered by expanding their product offerings year after year and providing a place for top-notch family fun. Liberty Bank has been a proud lending partner during these times and we look forward to continuing our relationship with Smugglers'."
Smugglers' Notch owner and managing director, Bill Stritzler, commented, "Liberty and Wellington are wonderful long-term partners in our growth. They fit our culture of service and smart risk perfectly."
"Smugglers' Notch can attribute much of its success to the staff's dedication to delivering a rich family-oriented vacation experience," says Shawn Brydge, executive vice president at Wellington Financial. "The corporate philosophy of community and family values is evidenced in every aspect of the resort.  This is demonstrated by their recent selection as the #1 Overall, #1 Kid Friendly, and #1 in Service for all Eastern U.S. and Canadian resorts by the 2018 SKI Magazine Reader Resort Survey."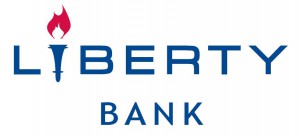 About Liberty Bank
Liberty Bank (Liberty-Bank.com) has been actively lending to the timeshare industry throughout the U.S. for over 35 consecutive years. The bank's commitment to superior service has resulted in lending relationships with some of the industry's largest and most successful developers. Established in 1825, Liberty Bank is Connecticut's oldest bank, with more than $4.7 billion in assets and 55 banking offices throughout the central, eastern, western and shoreline areas of the state.  As a full-service financial institution, Liberty offers consumer and commercial banking, home mortgages, insurance, and investment services. Named as a "Top Workplace" by the Hartford Courant for six consecutive years, Liberty maintains a longstanding commitment to superior personal service and unparalleled community involvement.

About Wellington Financial
Wellington Financial (Wellington-Financial.com) is the exclusive Resort Finance lending correspondent for Liberty Bank and specializes in lending to developers of timeshare resorts, fractional resorts and retail land. Founded in 1981, the finance and service company offers a full range of products, including receivables hypothecation, purchase and conduit facilities; pre-sale and working capital lines of credit; acquisition, construction and renovation financing, as well as mezzanine and equity debt financing. President Ron Goldberg serves on the Board of Directors for the American Resort Development Association (ARDA).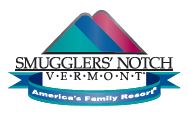 About Smugglers' Notch Resort
Smugglers' Notch Resort is located in northern Vermont's Green Mountains with skiing and snowboarding for all abilities on 78 trails and 1000 acres of terrain on three mountains. The Resort's extensive family programs have been recognized by SKI Magazine, the Family Travel Forum, FamilyFun Magazine, and Condé Nast Traveler magazine, among others. Lodging includes more than 600 privately owned and timeshare condominiums. Smugglers' has received awards from SKI Magazine, the Vermont governor's office, and other state environmental stewardship agencies for its innovative approach to environmental stewardship. The resort is privately owned by the Smugglers' Notch Management Co., Ltd.
Media Contact:
Sharon Scott Wilson, RRP
for Wellington Financial
SharonINK PR & Marketing
310-923-1269