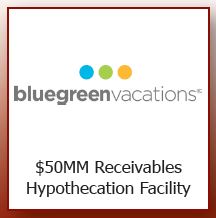 Liberty Bank renews $50MM timeshare receivables loan to Bluegreen Vacations
Wellington Financial says Liberty Bank renewed its $50 million timeshare receivables loan to Bluegreen Vacations
Charlottesville, VA & Middletown, CT; April 2014 – Wellington Financial, the exclusive Resort Finance lending correspondent for Liberty Bank, announced the bank has recently renewed a financing agreement with a major vacation ownership sales, marketing and resort management company, Bluegreen Corporation ("Bluegreen Vacations" or "Bluegreen"). The $50 million hypothecation loan will be used to finance vacation ownership interest ("VOI") notes receivable.
"We have enjoyed working with the team at Bluegreen since 2008," says Liberty Bank VP Denise Brewer. "They are extremely capable and resourceful; always willing to go that extra mile. This has been a mutually satisfying relationship and one that we look forward to continuing."
"On behalf of the team here at Bluegreen, we are pleased to continue working with Liberty Bank and their servicing entity, Wellington Financial," says Senior Vice President, Chief Financial Officer and Treasurer, Tony Puleo of Bluegreen  Corporation. "It is our pleasure to be able to renew our loan and support our VOI operations with this facility."
ABOUT BLUEGREEN VACATIONS
Bluegreen Vacations is a leader in the vacation ownership industry. Headquartered in Boca Raton, FL, Bluegreen Corporation was founded in 1966, and, since entering the vacation ownership industry in 1994,  has always emphasized delivering memorable vacations through unique experiences and customer value. Bluegreen manages, markets and sells the Bluegreen Vacation Club, a flexible, points-based deeded vacation ownership plan. Bluegreen also offers a portfolio of comprehensive, turnkey, fee-based resort management, financial, and sales and marketing services on behalf of third party developers.  Bluegreen caters to its niche through its innovative methodology and customizable ownership packages available nationwide and in the Caribbean. This all translates to more than 176,000 Bluegreen Vacation Club owners who choose from more than 60 owned or managed resorts located in some of the most popular,  primarily "drive-to" resort destinations, and access to more than 4,000 resorts worldwide.
ABOUT LIBERTY BANK
Established in 1825, Liberty Bank, based in Middletown, Connecticut, is the state's oldest mutual bank, with more than $3.6 billion in assets. Liberty Bank has been actively lending to the timeshare industry throughout the U.S. for over 30 consecutive years. The bank's commitment to superior service has resulted in lending relationships with some of the industry's largest and most successful developers. Member FDIC. Equal Housing Lender.
ABOUT WELLINGTON FINANCIAL
Wellington Financial is the exclusive Resort Finance lending correspondent for Liberty Bank and specializes in lending to developers of timeshare resorts, fractional resorts and retail land. Founded in 1981, the finance and service company offers a full range of products, including receivables hypothecation, purchase and conduit facilities; pre-sale and working capital lines of credit; acquisition, construction and renovation financing, as well as mezzanine and equity debt financing. President Ron Goldberg serves on the Board of Directors for the American Resort Development Association (ARDA).
Media Contact for Wellington Financial:
Sharon Scott, RRP
SharonINK PR & Marketing; 310-923-1269; Sharon@SharonINK.com